Jane McElhaney Booth
, b. 10.30.1794, Dauphin County, Pennsylvania, d. Oct. 3, 1833, Green Creek, Sandusky County, Ohio. She died 3 years before her husband, Isaac Booth (1795-1836). For information on Isaac Booth, go to
my blog HERE.
Her monument was inscribed with name, birth, death dates and "wife of Isaac"
buried 6 Oct 1833. It has worn completely away. (see cemetery photo) (both the Booth's monuments are in McPherson Cemetery, Clyde, Sandusky County, Ohio. Plot: Plot Section 1, Lot 43, Site 2)
Jane McElhaney Booth
was sister to two brothers and daughter of
William McElhany (
b. abt 1766 West Hanover Twp, Dauphin, Pennsylvania) veteran of War of 1812 (Come back here for my post on the
War of 1812 Cemetery
on Oct 26.) For information on the place of William McElhany and Betsy McNeal's marriage, see my post tomorrow.
Isaac and Jane Booth's children were:
As you can see, three of these children lived about a year. William Lewis Booth was to become my ancestor. Until recently I had never heard of naming a next child the same name when a child died early, but in my research have found it happening several times.
Jane had two brothers. Older brother was Matthew who lived in Green Creek Township, Sandusky County, Ohio. The youngest brother, Robert, was born 17 years after Jane, in 1811. According to one of my cousins (many times removed) Matthew, being the oldest, and one year older than Jane...
...was obviously the caregiver of the family. He never married. He had his mother, Elizabeth and brother Robert living with him on 1820 census; his mother Elizabeth with him on 1830 census; his mother, and his sister Jane's children, Charles, Lucinda and Daniel Booth on 1840 census. Upon his death, in 1845, he willed a portion of his property to Isaac and Jane Booth's children and his brother Robert and his mother, Elizabeth. He named his brother Robert as the administrator of his estate.
Matthew must have also been the one in charge of chosing a plot for his sister Jane and brother-in-law Isaac's burial in McPherson Cemetery, Clyde, Sandusky County, Ohio, in 1833 and 1836 respectively.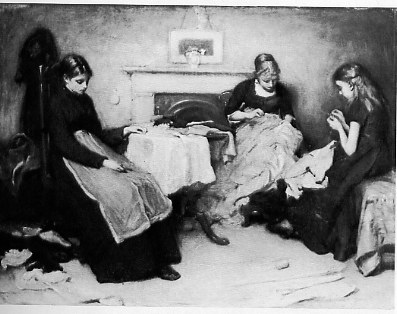 19th century women in domestic tasks
I find it so interesting that my cousin could figure all this out about Matthew from the few records that are available through Ancestry. It's amazing.